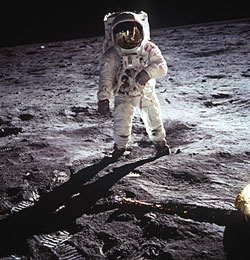 Yesterday, was annievrseray of Man landing on moon. If you forgot what your school lessons - July 20 1969 is the date. Neil Armstrong...ok Now you remember.
Thirty Sixth Anniverseray. Moon, however, is no longer our fancy. Our prime area of acquisition is Mars. So, moon is only a resort in 2045. But your flat will be in Ramanuja nagar, India-Mars Extension, Mars.
By the way, look how Google made a one-week project to launch
Google Moon
(like
Google Earth
) yesterday. It is nice to have a look at that.
And hey, i wanted to remind you about the
job posting i posted earlier
. For the eLearning company. You guys dont know anyone without jobs ? Unemployment is no more, is it ?