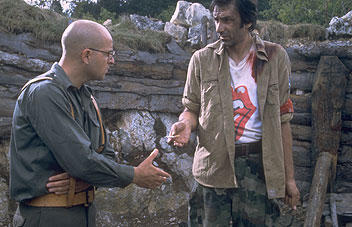 For the past few days, I've been subject to a lot of movie watching. The last movie watched was so very different. So Very Different. It was like watching a Award Winning Malayalam Movie. If I reccommend this movie to you, and you in a happy mood watch this movie, then the after-effects are unimaginable ;)

No Man's Land. Written and Directed by Danis Tanovic. (Thats just a info.. I dont remember hard names). This is a war movie. Where most of the movie is not showing up any fight between the armed troops, but is a light story of a Man, and his friend - who has been booby trapped, and another Guy from the enemy-troops. All three of them are stranded on a trench. Each one's life at other's mercy.

Serbia Vs Bosnia. A beautiful arguement happens between the enemy guys, Thanks to all the technology for inventing sub-titles. They both fight fiersomely, and at every stage try to kill each other. The UN then intervenes, but they could do nothing. Then comes the saddest part. The power of politics. The UN even, in its corrupted minds, leaves the booby-trapped guy, alone with the mine. And the movie ends.

Dont be surprised, if you dont find a Climax. Have you seen a Sine Curve. Imagine a Sine Curve, that goes on a straight line. No Ups and Downs (Technically not a sine curve). Thats the way the movie travels. FLAT. Flat screenplay, no twists. Absolutely Flat.

Besides all these, there is Black Humour that brings a grin and a smile at times. You get a different experience watching these movies. This one is a masterpiece.