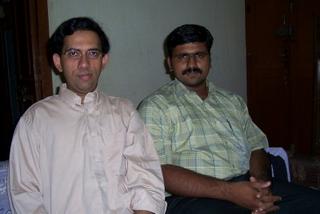 Mukund - aka - Thennavan - actually - Mukundan Krishnaswamy was here in Chennai this month and I had an excellent opportunity to meet him. He had been mute about his trip, and it was a pleasant surprise, when I got to meet him. Now that he has unveiled his trip, I couldnt wait to Boast my contact with him.
After a surprise call, I was off to LLoyds Colony. I was greeted with a "Rava Vadai" and Potato Chutney.. a very nice combination, accompanied by a herbal drink. Mukund's family is fully on natural diet. More of herbal products and healthy food. Had a very beautiful conversation with Mukund about various stuffs ranging from my employment to unemployment. Then I was introduced to Mr. Partha Krish, and Dr. Vasantha - Mukund's dad and mom, who were also bloggers. Boy, they make an amazing family. You would hav heard Mukund's mom sing "Sriranga Kshethiram Pol Engeeyum Kandadhillaye !!". I had the pleasure of hearing it live, the complete song. Wow ! Amazing voice.
I had another opportunity to meet him, and we went off to the famous Parthasarathy Temple. (Mukund's home is literally in the heart of the city. Mylapore, Triplicane , Royapettah, Beach and even Mount road is close to his home.. ) We had a great darsahan, and a good conversation in the calm atmosphere provided by "Venkata Narayanan". We also watched videos of Dr. Vasantha's lecture given in her US Trip, also the Yoga demonstrations by Mukund. I got a sprain, just even thinking about doing what Mukund did !!You can sit and listen to what all Mr. Partha Krish has to say, all day long. I enjoyed conversations with him.
At the end of it all, I got introduced to a new good family.. Mukundan - Thanks for the call !