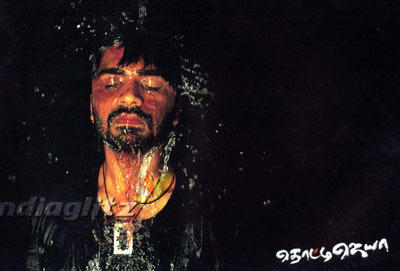 First Things First.
Thanks a million to VZ Durai and Simbhu for not letting us down. The movie is good and you can start dressing up. Go watch it, soon.

With a very ordinary story [extra-ordinary story taken as movies again and again, makes it ordinary] Simbhu has taken up a huge challenge of a paradigm shift. And he has done it well. It is a risk free job, to act as a Dada or Rowdy.. show hand actions, talk punch dialogues and have a beautiful heroine to love you, even if you are the crappiest. Thankfully no hand actions, and punch dialogues.Simbhu is showing growth, and I'm placing my bets on him. Thotti Jaya is an effort well-taken, and wish it is well-paid too.

Simbhu works as a "adiyaal" (Hit-man) for a don Seena Thana(Pradeep Rawath, i did not like him on screen... a very boring villain..). Simbhu is asked to be undercovers for sometime. I started yawning, when Simbhu chose Kolkatta, and boards the train, and a usual heroine-intro song pops up. But all of a sudden, the movie is on 5th gear. The Heroine misses the train, gets exploited by the taxi-driver and a gang abducts her from the taxi..Simbhu saves her from them, and takes her to the railway station, and on-request he also accompanies the heroine to Kanniyakumari.

They realize they are in love (This is a new way of showing love... i was impressed the way Simbhu realizes that he is in love....too good.) and thankfully no duet songs here. Only later, Simbhu realizes that the Heroine is Seena Thaana's daughter and Seena Thaana is mighty-angry about what Simbhu is doing with his daughter, and sends men to kill him.

From then-on the movie is on a even faster pace.. some very entertaining Action-sequences...and the struggle continues till the climax. Finally Simbhu defeats the villain (and cries awkwardly.. imsai thaanga mudiyalappa) and "The End".

RD Rajasekar is one of two Heros of the movie. Anthony [Editor] is the other. They hold up the movie, strong and interesting till the climax. Trust me, I never got bored anytime on the movie. It keeps you occupied full time. Camera works for showing Simbhu as a hero, really works out well. Everytime Simbhu walks on screen.. we are excited, and thats success for the Thotti Jaya Crew.

Harris Jayaraj - If only Harris Jayaraj had made the songs even better, the movie would have been an ultimate package. Ironically, for a good movie like TJ, the songs are not that good. Two Kuththu songs.. and others are really boring. "Uyire Enn Uyire" is too good on screen. (PK, Samba Sambaley's picturization reminds Meenaxi's Chinnamma). The last song is clear lift from "Uppu Karuvaadu" of Mudhalvan. Hariss anna, neengaluma !!

But HJ has gone beyond excellence in Background Score. Absolutely brilliant. Iam waiting to download the BGMs. 5 starts to HJ for the background score.

If I can spot mistakes on Thotti Jaya - there are only Two. One is Harris Jayaraj making sloppy songs. The other biggest mistake is Gopika (I would be violently opposed for this). I felt Gopika was not for that role, and she couldnt perform even the expected. If someone wants proof, Please visit Thotti Jaya and watch the way she shows reactions inside the Taxi. Yuk !

Action sequences need a prime mention. Kallaaaas !! Chancey Illa. Beautiful action all over the movie, and wonder how it got a "U" Certificate. My apologies. I didn't note who did the Action in TJ, but whoever it is... Take my bow... Right from the Go-word, the screenplay is Hot and burning. Thotti Jaya is an example of how a screenplay can increase the interest on a story.

On the whole, VZ Dorai has given us a Hot-Dum Biriyani... tastes good. Go pick up your plate.

If only, Simbhu can choose different roles like this (for God's sake, please dont sign-up another dada movie..) and select good stories.... he can reach where he dreams.

Let me know, when you have watched this movie.