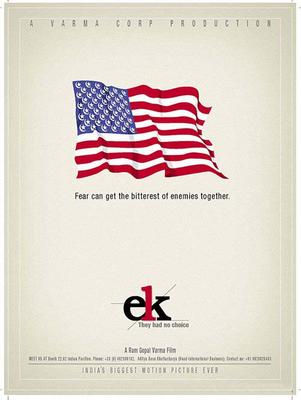 First click on the picture. In the big version, do you see something fishy ? Oh yeah !!! the stars are with the moon.
Ram Gopal Varma's Ek. A new $20 million project starring Amithab and Abhishek. As obvious from the picture, the movie drags in International Lines and will be close to a controversy, or atleast draw some protest from some part.
[
Quick question to you. Do you think some Indians would leave it easily, if they see some manipulation on the Indian Flag like what RGV has done to the American Flag ? Why ?
]
The poster carries the tag-line "India's biggest Motion Picture , Ever". Whew !!
"Fear can bring the bitterest of enemies together". Anybody would guess Pakistan and USA, and thats obvious from the flag. Why and How are questions Ram Gopal Varma would try and answer in this movie.
I have a big list of Ram Gopal Varma's movies yet to be watched. Im open to anyone who can lend me DVDs :)
BTW - I dnlded the MP3 from "Twinkle Twinkle Little Star" by Ilayaraja. Awkward music. Untolerable. Totally reused and improper. What the heck !! I wish some rash critisisms reach Ilayaraja.