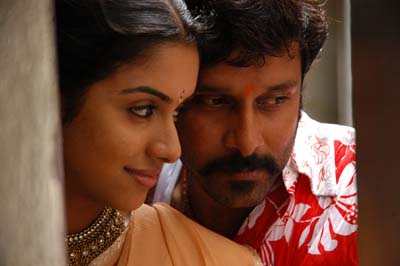 One thing that Struck me when I watched "Sollitharavaa" in "Majaa". Immediate thought.
"Suttum Vizhi Sudare" should have been choreographed and cinematographed like this.

It simply didnt require Surya dancing to the beats, and it was close to comedy the way he was dancing. It was a good song spoiled.

Usually, the Oliyum Oliyum days, I used to wait and watch the songs on TV than just listening to it. Because the video part was pulling the audience.. "Uyire Uyire" from Bombay had no dance/special effects/not even foreign location. Yet made me watch it everytime, its on TV.

Its only after watching the movie on theatre, Im repeatedly listening to "Sollitharavaa.. Sollitharavaaaa" from Maja. Its got a Vintage effect. You can easily put MGR and KR. Vijaya in it... resembles a very old song. Still the melody wins beyond replication. Give it a listen.

This song is sung by Madhu Balakrishnan and Sadhana Sargam. Perfect corellation between the voices.

There's another Madhu Balakrishnan song playing on Avyukta. "Kanden Kanden" from Madurey. Its another impressive song, with good editing... Freeze frame worked out well with the Slow song too.. waw !

Many directors struggle to make a Slow song. A very few succeed. Remember K. Balachander showed two people conversing over the phone for 5 minutes.. and made it a Hit song and its always interesting to watch the song. (Sangeetha Swarangal from Azhagan)...

PS - Why does Vikram apply "Kan Mai" to his eyes in that song... looks odd. Probably to make Asin look even more beeetiful.